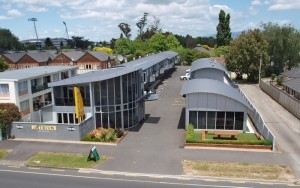 The Atrium On Ulster is a Hamilton accommodation offering a  modern 28 unit, purpose built motel which opened in 2008. It is ideally situated on the "motel mile" on Ulster Street, Hamilton.
As the property has a reasonably narrow road frontage and lies away from the road, the rooms provide a quiet haven for guests.
Concrete tilt slab construction mean noise is eliminated between the two levels. The very popular Hamilton accommodation offers conference / meeting room along with free broadband internet access, gymnasium and off street parking make "The Atrium On Ulster" a desirable place to stay for both leisure and corporate travellers.
Our Hamilton accommodation at Atrium On Ulster is ideally located as it is just a short walk to restaurants, supermarkets, parks and reserve or the Waikato Stadium.
Hamilton Accommodation Rated at Qualmark® 4* Plus

Qualmark® is the official mark of quality for New Zealand tourism. Atrium On Ulster annually undergoes an in-depth, independent quality assessment of our accommodation and its facilities and services. This assessment is completed by Qualmark New Zealand Limited (New Zealand Tourism's official quality agents). Only businesses that are considered to be wholly professional and trustworthy are awarded the licence to use the Qualmark® endorsement
Atrium On Ulster's Qualmark® rating of Four Star Plus is intended to confirm to travellers and guests, the type and room standard that we provide, plus the range and quality of the facilities and services offered at our Hamilton accommodation.
Our Qualmark® rating of Four Star Plus (Excellent), assures you that the Atrium On Ulster, consistently achieves high quality levels for accommodation and services, in the provision of  our self-contained and serviced Hamilton accommodation, so you the guest can book with confidence.
Should you have any further enquiries regarding our Hamilton accommodation and services please contact us